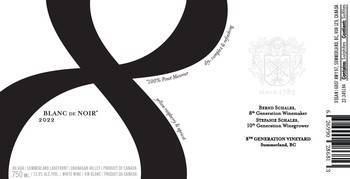 VINEYARD:
100% Pinot Meunier grapes, zero skin contact, 100% Naramata Bench Vineyard
WINEMAKING:
Many people believe that red wine is made from red grapes and white wine from green grapes. They are wrong. When grapes are pressed, the juice is white, no matter what variety of grape is used. But if the juice is left in contact with red grape skins, pigments leach out of the skins and colour the wine. If red grapes are pressed and the juice is allowed to ferment after being separated from the skins, the result is white wine, referred to as "blanc de noirs" meaning a white wine from dark grapes.
We even went one step further and used only Free-run juice (not pressed juice) to maintain the white "blanc" colour. A cold & slow fermentation ~10C intensified the fruity notes.
TASTING NOTES:
Alluring aromas of lime, pamelo, and a hint of passion fruit. A hint of white raspberries and apricot on the taste, while green zestyness dominates. Very fine lees notes, and intense fruit flavours make this a very refreshing but also three dimensional wine. It's DRY!
If you had our Pinot Meunier Rosé before, this white wine will give you a déjà vu moment. And... we are over the moon how this "new-to-us" wine turned out.
FOOD PAIRING:
Think French style Rosé, Sauvignon Blanc or Pinot Grigio. Anything you would pair with these wines will work for our Blanc de Noir too. When it comes to food this wine is simply a chameleon, as it will match any dish. Rich pasta dishes, explore with BBQ meals, roasted veggies, seafood, roasted chicken, any flatbread, tacos,... all this pairs beautifully with the Blanc de Noir.
AVAILABLE:
Private Liquor stores, fine restaurants & winery directly.
NEW WINE STYLE! It's the sexy French cousin from our Pinot Meunier Rosé
Wine Specs
Vineyard Designation
Summerland Estate Vineyard