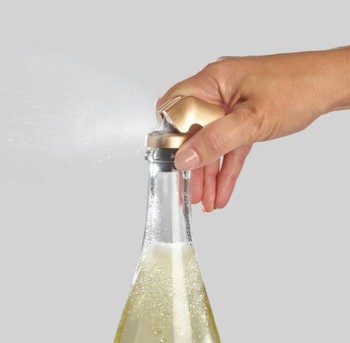 The best stopper for bubblies! We've tried them all and this one is the best at keeping all those little bubbles in the wine. Even for the next day.
This stopper is made in Germany and specially developed for the airline industry. Thanks to the patented pressure release mechanism, you can re-open sparkling wines safely and securely as the excess pressure that may build up in the bottle escapes slowly through the stopper valve. It prevents the bottle stopper from shooting out and helps keep all those beautiful bubbles in the bottle where they belong! (For best results, always remove the stopper slowly)
Tested at 3 bar; ISO certified
Expandable stopper: Can be used for different types of bottles
Material: lightweight and durable ABS
Preserves the delicate aromas and bubbles of frizzante wines,sparkling wines, ciders and beers.