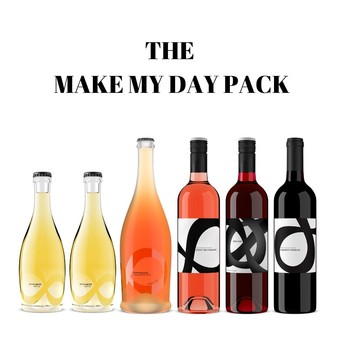 A pack of all the favorites here at the winery!
The Frizzante's are perfect for anytime and a needed pick me up, our Pinot Meunier Rosé, RedOne and Cabernet Merlot are all perfect to go with your favorite BBQ foods or just to sit back and relax with. Enjoy!
This 6 Pack is pre-set and includes:
2 INTEGRITY PETITE - Half bottle sizes of the super popular white Frizzante. Our BC answer to Prosecco. Super soft bubbles which will dance on your tongue!

1 Confidence - Fruit forward and refreshing. Pairs with LUNCH, BRUNCH, DINNER, BEFORE, WITH or AFTER. Pinot Noir / Pinot Gris Blend.

1 Pinot Meunier Rosé - Wild strawberry, pink grapefruit and bright balanced acidity.

1 RedOne For all your spicy dishes. This is the only red we ask to be served cold (8°C)

1 Cabernet/Merlot - A velvet blend of two world renowned varietals that make red wine heaven.
Use Coupon Code "6PACK" at the check out page to receive free shipping to BC & AB.
*Sorry no substitutes possible to the original package.