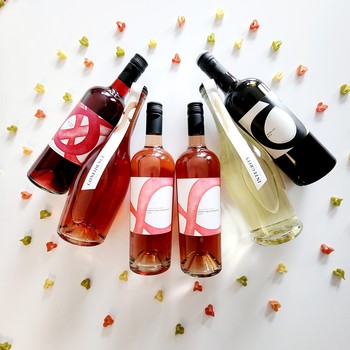 Galentine's and Palentine's Day are like Valentine's Day, except instead of celebrating love with your significant other, you spend the day enjoying and appreciating the bond you have with your closest and best friends (usually on the 13th of Feb or Valentines eve.).
If you planning a brunch or surprise dinner, wine is essential. Your Box will include:
1 Confidence frizzante rosé (perfect for brunch)
1 Integrity frizzante white (mimosa option but promise to freeze the orange juice in an icecube tray so it slowly melts in the glass)
2 Pinot Meunier Rosé (everyone loves this one, with cheese, seafood, pasta, chicken, anything - you can't go wrong)
1 Merlot (for the three course dinner with red meat)
1 RedOne (for the three course dinner with veggies, seafood or something spicy. It's the one red wine from us you need to drink cold)
And if you have the Valentine ♥ to spoil- just follow the same plan...
PS: Use code:

Spring2023

to receive free shipping (BC&AB only)!
Free shipping to BC & AB!