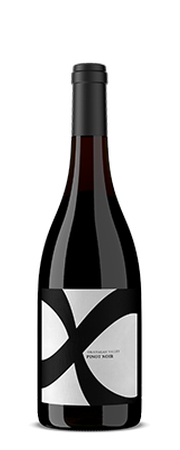 VINEYARD:
In November 2018 we ripped our Estate Pinot Noir just to replant it in Spring 2019 with Pinot Noir. WHY? Different clone which will provide us with a better quality. To make some "regular" Pinot Noir we used grapes for this vintage from Naramata. Grower Ralph Suremann supplies us for years with Pinot Noir grapes which usually go into the Confidence (Rosé frizzante), but we keep a few to create this outstanding Pinot!
PS: We are super excited how the new planting is doing and can't wait to show you liquid results probably with vintage 2022...
WINEMAKING:
The winemaking is very old fashioned as we crush the grapes, ferment them on the skins and press the skins after. The malolactic fermentation happens right after, in a temperature controlled environment, as this bacteria is super sensitive. The wine hibernates unfiltered for 12 month in French oak barrique barrels. We use new and older barrels as we are after a gentle oak taste. Bottled under natural cork in December of the following year.
TASTING NOTES:
This wine is layered with classic Pinot Noir aromas of cherry, raspberry and the typical truffle notes. It is an elegant yet robust wine which delivers a gentle hint of spice & a smooth long finish. Fine Tannins give a great texture too. We are not after a woody/massive wine and prefer to stay on an elegant & soft Pinot Noir expression.
FOOD PAIRING:
Tuna steak, duck, truffle popcorn, goat cheese & spinach salad or any vegetarian dish.
AVAILABLE:
Wine shop exclusive.
Wine Specs
Vineyard Designation
Summerland Estate Vineyard
Fermentation
Fermented on the skins, punched down morning and evening for two weeks
Bottling Date
December 2020
Tannin
Aged 12 months in French Oak