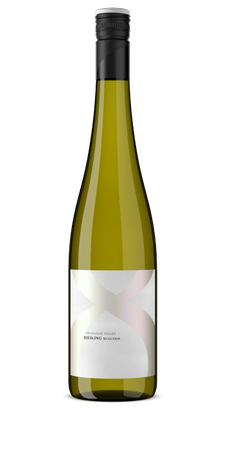 TASTING NOTES:
Zesty refreshing, layered with apples, citrus and minerality. A soft & rich Riesling which is due to skin contact. Prepare yourself for a long finish, this is a serious Riesling with so much to offer. Open the bottle at least 3hrs prior to dinner or give it a short swirl in a decanter. It will reward you with an unobstructed Riesling experience.
FOOD PAIRING:
West Coast Cuisine, baked cheese dishes, seafood, chicken, veal, pork, pasta, grilled veggies or just a plate of charcuterie… it's endless.
WINEMAKING:
Same here as in all Rieslings, the picking date is determined by the acidity level and not by the brix level of the grapes. This is very important to create a lively & well balanced Riesling. The fermentation is wild (no inoculated yeast) and temperature controlled in stainless steel tanks. As the yeast is native from the vineyard it is not as strong as "packaged yeasts" and the fermentation is much slower. This Selection vintage is actually fermented till January. Which is scary, nerve-wracking and wonderful at the same time. Longer yeast contact excels in a richer deeply layered wine.
VINEYARD:
100% Riesling, 100% Estate Vineyard Okanagan Falls with very light, sandy soil.
The vineyard planted in 1985 produces year after year outstanding, clean, and aromatic fruit. Creating the SELECTION starts in early August when veraison starts. We thin 14 rows in the vineyard to 1 cluster/ bud. At that time (rather than July), the cluster is done with growing in size so all the energy of the vine goes into ripening the remaining grapes. The result is a grape with concentrated aromas and more intensity. The quantity is low but superb in quality.
AVAILABLE:
Private Liquor stores, fine restaurants & winery direct.
Wine Specs
Bottling Date
February 2019
Wine Profile
Other Notes
The SELECTION process starts in August when the grapes get manually thinned out in the vineyard to one grape/bud. Basically reducing the yield to 35% only.
Product Reviews
Jand
(Jul 28, 2021 at 5:01 PM)
2011 vintage opened on 27 Aug 2021. Excellent wine, aged gracefully. Complex nose with distinct petrol and stone fruit. Ffne acidity that is well integrated into stone fruit and lemon peel on the palate. Medium long finish. This competes with some of the best german riesling GGs (think Dellchen or Frühlingsplätzchen). I regret not having bought every vintage of this wine.