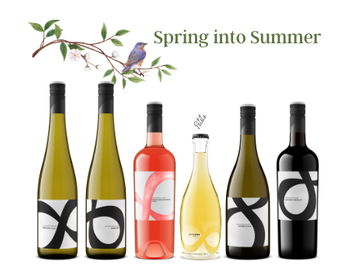 This 6 Pack is pre-set and includes:
1 Riesling Classic 2019 Dry style Riesling - citrus and green apple light up the palate.

1 Riesling (off-dry) Intense aromas of mango, quince and pineapple.

1 Pinot Meunier Rosé Wild strawberry, pink grapefruit and bright juicy acidity!

1 Chardonnay 2018 Lovely and bright on the palate! A blend of stainless steel and barrel fermented grapes showcases this cool climate style of Chardonnay.

1 Integrity Petite Notes of apricot & pear combined with a soft citrus on the nose; the palate explodes with pineapple and exotic fruit.

Merlot Cabernet Sauvignon 2018 Merlot brings all the softness to this wine while the renowned Cabernet Sauvignon brings structure - it's our go to blend for everyday!
Sorry no substitutes possible to the original package