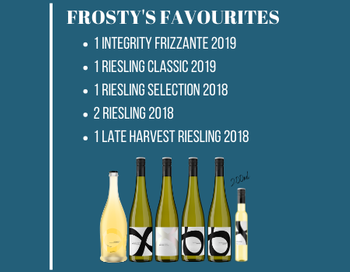 This 6 Pack is pre-set and includes:
1 Riesling Classic 2019 (dry) lip smacking acidity, with crisp lime & green apple notes. (think seafood, baked cheese dishes or a Schnitzel)

1 Integrity Frizzante 2019

A perfect anytime wine! Soft bubbles dance on the tongue with every sip of this refreshing bubbly!

1 Riesling SELECTION 2018 Wild Fermented, only produced in exceptional vintages- a true expression of Riesling (decant for best experience)

2 Riesling 2019 (off-dry) intense exotic fruit aromas greet your nose, the palate bursts with apricot and peach and finishes with balanced acidity. (Think spicy, vibrant dishes!)

1 Riesling Late Harvest 2018 Lush ripe pear, candied lemon and honey with a tingling acidity on the finish. (Yes for dessert but also marvelous for a cheese board)
Use Coupon Code JOLLY at the check out page for $20 off shipping in BC & AB!
Sorry no substitutes possible to the original package.