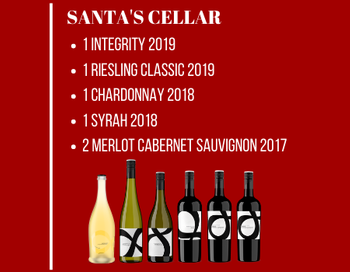 This 6 Pack is pre-set and includes:
1 Integrity Frizzante 2019 A perfect anytime wine! Soft bubbles dance on the tongue with every sip of this refreshing bubbly!
1 Riesling CLASSIC 2019 (dry) lip smacking acidity, with a crisp line & green apple notes.

1 Chardonnay 2018 Lovely and bright on the palate! A blend of stainless steel and barrel fermented grapes showcases this cool climate style of Chardonnay.

1 Syrah 2018 Single varietal Syrah, lots of spice, elegant and will age beautifully in cellar.
2 Merlot Cabernet Sauvignon 2017 A velvet blend of two world renowned varietals make red wine heaven.

Use Coupon Code JOLLY at the check out page for $20 off shipping in BC & AB!
Sorry no substitutes possible to the original package