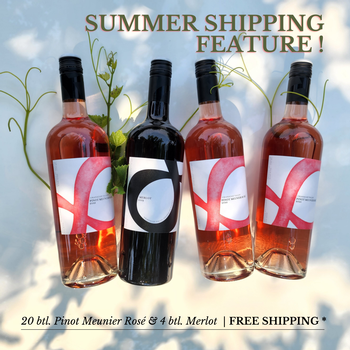 The 2 cases include:
20 bottles of Pinot Meunier Rosé 2021 experience pink grapefruit, wild strawberry and bright juicy acidity!

4 bottles of Merlot 2019 single varietal Merlot, aged for 12 month in French Barrique. Lots of berries, cedar; a beautiful medium body red, perfect for everyday!

Sorry no substitutes possible to this package. Online orders only.

BC & AB: Free Shipping!

Everyone else in Canada receives a $45 shipping discount. Please use CODE AUG2022 at check out page.



Add on your other favourite wines and receive the shipping deal on your whole order.