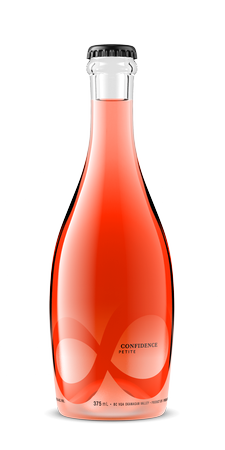 VINEYARD:
Pinot Noir: sourced from Naramata vineyard heavy clay loam
sourced from Summerland vineyard fluvial volcanic soil deposits
Pinot Gris: Estate Vineyard Okanagan Falls very light sandy soil

WINEMAKING:
We keep and store the CO2 from the fermentation and inject it back later to create these small soft bubbles. No second fermentation, no traditional Champagne process, no aging on yeast, no sur lie. Without all this the wine is younger and boosts with powerful and intense fruit flavours; think of it as an uncomplicated Okanagan "Prosecco" version.
TASTING NOTES:
Wild strawberries, Rainer Cherries abound in this creamy frizzante wine. Crisp, fresh field berries mingle with a hint of pink grapefruit to make this a refreshing summer sparkler. The Pinot Gris portion magically transforms the wine to a "cream-soda" finish.
FOOD PAIRING:
LUNCH, BRUNCH, DINNER, BEFORE or AFTER… very easy to pair as the wine has a refreshing acidity which makes it an outstanding & exciting food wine. No need for orange juice anymore.
AVAILABLE:
Fine restaurants & winery directly.