Fall Mushroom Pasta Dish with Pinot Noir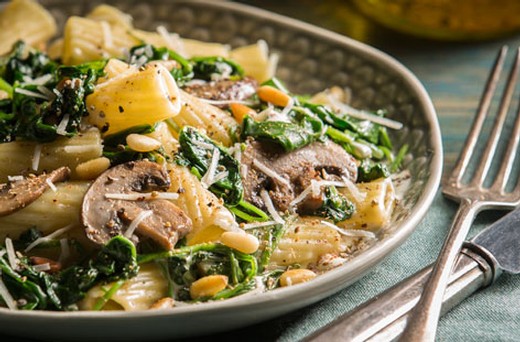 Recipe Date:
September 27, 2018
Measurements:
Imperial (US)
Ingredients
16 ozs Pasta (True Grain Red Fife Fettuccine)
3 Slices of Bacon
16 ozs Fresh Mushrooms sliced
4 Garlic cloves minced
1/4 cup White Wine
1/4 cup Chicken broth
1/2 cup Heavy Cream
1/4 cup Parmesan freshly grated
5 ozs fresh Spinach
6 ozs Goat cheese
Salt & black pepper to taste
Directions
-> Open the 8th Generation Pinot Noir 2 hours prior cooking and let it breath!
Place a large pot of generously salted water over high heat and bring to a rolling boil. Add the Red Fife pasta and cook al dente, according to package directions.
Cook the bacon slices in a large sauté pan over medium-high heat until rendered and crisp on both sides. Remove the bacon from the pan and set aside.
Pour off all but 2 tablespoons of bacon fat.
Return the pan to the heat, reducing it to medium, and add the mushrooms. Cook the mushrooms on one side until golden and caramelized, then turn them and brown them on the other side. Add the garlic to the pan, sautéing until the garlic is fragrant, about 60-90 seconds. Season with salt. Remove the mushrooms and garlic from the pan and set aside.
Return the pan to the heat. Deglaze the pan with the white wine, scraping the browned bits off the bottom of the pan. Stir in the chicken broth and cream. When the liquid is warmed through, whisk in the parmesan cheese until melted.
Drain the pasta. Return the pasta to the pot. Pour the parmesan cream sauce over the hot pasta.
-> Pop the Pinot Noir in the fridge door so it gets a 5-minute chill.
Stir in the spinach and goat cheese, so that the spinach begins to wilt, and the goat cheese begins to melt and thicken the sauce.
Crumble the bacon and add it to the pot along with the mushrooms. Toss everything to combine. Season with salt and pepper to taste.
Serve promptly with the 8th Generation Pinot Noir ♥ and enjoy!